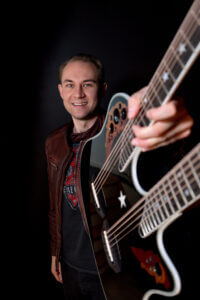 My name is Ben Reichert and 28 years ago I felt in love with guitars. At the age of nine I started to take lessons in classical guitar and did this for 13 years. Additionally I began playing acoustic guitar and electric guitar. Beside playing in cover bands I continued playing the guitar by listening to my favorite bands and musicians in the rock genre. I learned the different stumming techniques and fingerpicking on the acoustic guitar. I combined the rhythm playing (strumming and backing) with playing the melodies of my favorite songs. This being said I created my unique style of playing which allows me to interpret and perform songs in instrumental versions as well as with other instruments.
Harp and vocals made the Singer-Songwriter setup complete. So I started to learn playing the harp by myself listening to my favorite music and I started to take vocal lessons. On my youtube channel I produce original songs and covers. My cover repertoire covers a wide range: Evergreens, oldies and hits from the past decades up to the recent charts (pop/rock).
Songs of Bon Jovi, Bryan Adams, Sunrise Avenue, Bruce Springsteen, Simon&Garfunkel, Scorpions and Neil Young are just a small selection of my repertoire.
In March 2022 I had my first TV appearance in German Television (L-TV Landesfernsehen) with my project An Acoustic Bon Jovi Tribute (L-TV Landesfernsehen).
In May 2022 I released my debut single "Number One Highway" on all music and streaming services. "Number One Highway (Acoustic Version)" followed in July 2022.
You can find the songs under Media/Releases . 
Currently I'm on Promotion Tour.